Last week, we had the opportunity to present our Cloud-Native Smart Cities Applications using the Spark Works IoT platform in the 24th Development Forum, a digital event organised by the Technical Chamber of Greece – Department of Western Greece under the session "Smart cities applied solutions – Experiences and perspectives of the local ecosystem in Patras".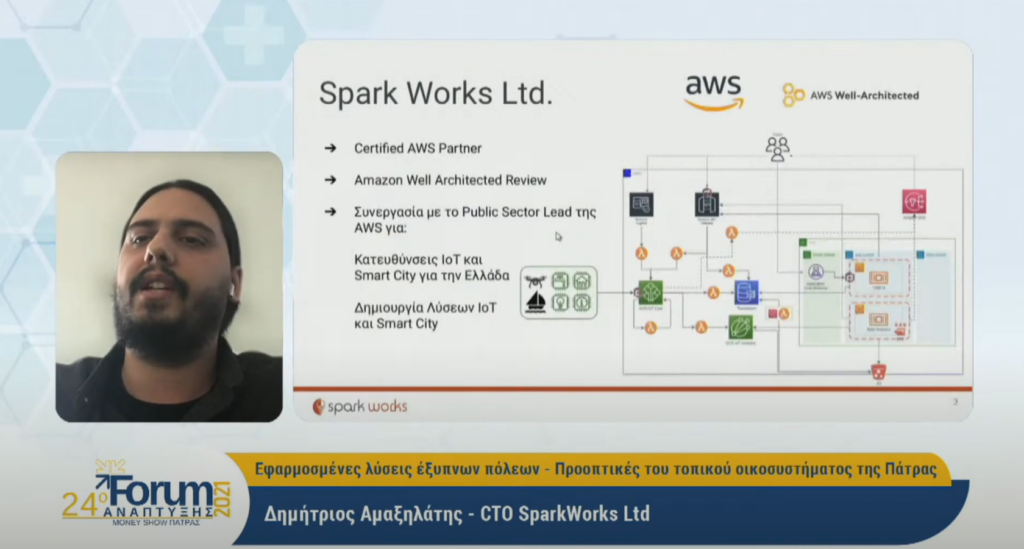 The event aimed to advance and discuss some of the many business complex reasons that impact the sustainable adoption of innovations in smart cities. The main thematic unit of the 24th Development Forum was: "Building our Future". The event mainly focused on how companies, governments and municipalities can leverage the below new technologies and capabilities:
The role of 5G in all activities
The final form of cooperation of the Public with the Private Sector
Shielding from major health crises
The role of the Circular Economy
The role of new forms of Energy (Electricity, Hydrogen as fuel, etc.)
The role of Education and Research
Culture as a basic raw material in the construction of "Tomorrow"
The new forms of social organization in the age of the internet and the data of the health crisis
What is the Greek Added Value in "Tomorrow"
Spark Works had the chance to present involved case studies and real-life smart city implementations. We had also the opportunity to present how connected solutions will drive city-wide improvements offering a better quality of life for residents and business opportunities for enterprises.
Watch the recording of the session here:
If you want more content like this subscribe to our newsletter or follow us!